Brindisi

topographic map

Click on the map to display elevation.
About this map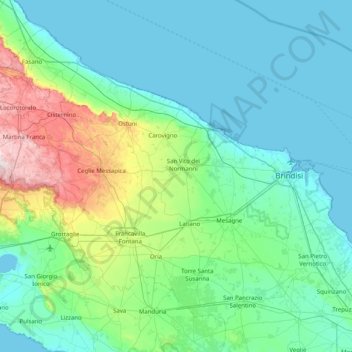 Minimum elevation: -2 m
Maximum elevation: 490 m
Brindisi experiences a Mediterranean climate (Köppen: Csa). Summers are hot and dry with abundant sunshine. Summer heat indexes can be regularly over 30 °C (86 °F) and occasionally as high as 37 °C during July and August. Winters are mild with moderate rainfall. Brindisi and the mostly topographically flat Salento peninsula is subject to light winds during the majority of the year. The two main winds in Salento are the Bora and the Sirocco. The northerly Bora wind from the Adriatic sea is cooling, moderating summer heat and increasing winter wind chill. The southerly Sirocco wind from the Sahara, brings higher temperatures and humidity to Salento. During spring and autumn, Sirocco winds can bring thunderstorms, occasionally dropping red sand from the Sahara in the region. Snow is rare in Brindisi but occurred during the January 2017 cold spell which brought snow and ice to much of southern Italy.
Other topographic maps
Click on a map to view its topography, its elevation and its terrain.