Pau

topographic map

Click on the map to display elevation.
About this map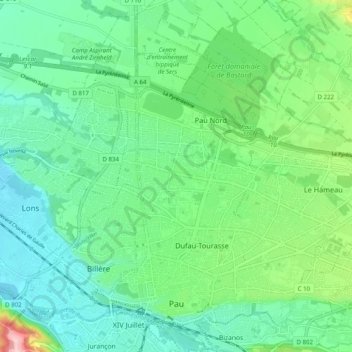 Minimum elevation: 159 m
Maximum elevation: 341 m
The city, located at an average altitude of 200 metres (660 ft), is crossed by the Gave de Pau, where a ford gave passage to the Pyrenees. Gave is the name given to a torrent in the Pyrenees. The Gave de Pau, which becomes a torrent when mountain snow melts, takes its source in the Cirque de Gavarnie and is the main tributary of the Adour, into which it empties after 175 kilometres (109 mi). The crossing was used for pasturage for sheep in the high meadows. The old route is now a hiking path, GR 65, that runs 60 km (37 mi) south to the border.