City of Edinburgh

topographic map

Click on the map to display elevation.
About this map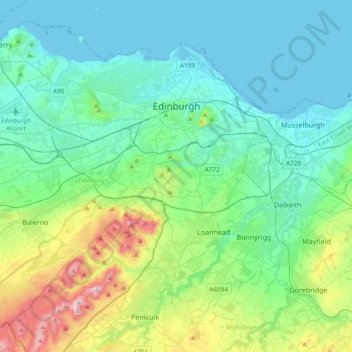 Minimum elevation: 0 m
Maximum elevation: 578 m
Edinburgh has been popularly called the Athens of the North since the early 19th century. References to Athens, such as Athens of Britain and Modern Athens, had been made as early as the 1760s. The similarities were seen to be topographical but also intellectual. Edinburgh's Castle Rock reminded returning grand tourists of the Athenian Acropolis, as did aspects of the neoclassical architecture and layout of New Town. Both cities had flatter, fertile agricultural land sloping down to a port several miles away (respectively, Leith and Piraeus). Intellectually, the Scottish Enlightenment, with its humanist and rationalist outlook, was influenced by Ancient Greek philosophy. In 1822, artist Hugh William Williams organized an exhibition that showed his paintings of Athens alongside views of Edinburgh, and the idea of a direct parallel between both cities quickly caught the popular imagination. When plans were drawn up in the early 19th century to architecturally develop Calton Hill, the design of the National Monument directly copied Athens' Parthenon. Tom Stoppard's character Archie of Jumpers said, perhaps playing on Reykjavík meaning "smoky bay", that the "Reykjavík of the South" would be more appropriate.
Other topographic maps
Click on a map to view its topography, its elevation and its terrain.