Portsmouth

topographic map

Click on the map to display elevation.
About this map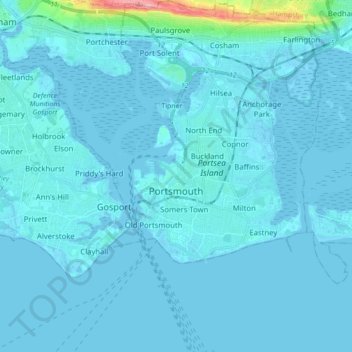 Minimum elevation: -5 m
Maximum elevation: 128 m
Portsmouth is 73.5 miles (118.3 km) by road from central London, 49.5 miles (79.7 km) west of Brighton, and 22.3 miles (35.9 km) east of Southampton.[113] It is located primarily on Portsea Island and is the United Kingdom's only island city, although the city has expanded to the mainland.[114] Gosport is a borough to the west.[113] Portsea Island is separated from the mainland by Portsbridge Creek,[115][page needed] which is crossed by three road bridges (the M275 motorway, the A3 road, and the A2030 road), a railway bridge, and two footbridges.[116] Portsea Island, part of the Hampshire Basin,[117] is low-lying; most of the island is less than 3 metres (9.8 ft) above sea level.[118][119] The island's highest natural elevation is the Kingston Cross road junction, at 21 feet (6.4 m) above ordinary spring tide.[120]
Other topographic maps
Click on a map to view its topography, its elevation and its terrain.